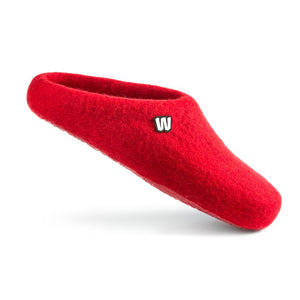 Crimson Red wool slippers
Sale price Price €59,99 Regular price
Tax included.
Shipping
calculated at checkout.
Colorful wool slippers
Colorful wool slippers. Handmade to bring cozy & colorful touch into your day. It will keep your feet warm in the cold and cool in the heat.
Naturally breathable
Super soft & lightweight
Moisture & temperature regulating
Odor resistant
Dry cleaning preferred
Choosing the size, check our size guide. If your feet fall between sizes, we advise to choose a larger size. 
NOTE: All orders placed after 14.09.2023 will be accumulated in next batch of production in January 2024
Crimson Red wool slippers
Very very good… my second pair
Second one I buy :)
They're really the perfect slippers. I live in Denmark and they're just what I need to keep warm during winter and comfy during the rest of the year.
I bought a pair in 2019 when visiting Riga and gifted myself a new pair this year to replace the old worn out ones. I have already gifted a pair to my partner and I constantly recommend them to friends. Everyone that comes to my place wants to try them on and I get really annoyed - my slippers fit me perfectly, don't go widening them with your big feet :P
Difficulties re. delivery by DPD
I recommend to stop using DPD for your deliveries. They almost never deliver at home but falsely accuse you that you have repeatedly not been there during the agreed time slot. They then threat to send the parcel back to the sender if you do not accept to yourself pick it up at the next DPD-parcel-shop.